BOOK YOUR CHRISTMAS PARTY NOW
Call 01746 766 522 or 01746 763 464
Also now taking bookings for Boxing Day Open 5pm to 10pm, limited space book now (closed Christmas Day)
For over 40 years, the Himalaya Tandoori Restaurant has served Quality Authentic Traditional Indian Food in Bridgnorth, Shropshire.
One of the oldest restaurants in the area, the Himalaya Tandoori Restaurant in Bridgnorth has served traditional Indian food for over 40 years. Cooking with only the finest ingredients and sourcing locally whenever possible ensures the Himalaya Indian Restaurant produces mouth-watering dishes that ensure diners keep returning.

To book a table at the Himalaya Tandoori Restaurant in Bridgnorth

01746 766 522 or 01746 763 464
OPEN 7 DAYS
Sunday to Thursday 5pm - 10pm
Friday & Saturday 5pm - 11pm
WINNER OF BEST CHEF AWARD 2022
CURRY LIFE AWARDS, London - 9th October 2022
We did it! Dave won the regional Best Chef of the Year 2022 at the Curry Life Awards at the Grosvenor House Hotel, Park Lane, London. Couldn't have done it without the support of the customers and his fantastic team. Well done!

Dave, Head Chef and his team thank you for all your support.
Awards Ceremony, London..More photos
Local Celebration, Bridgnorth..More Photos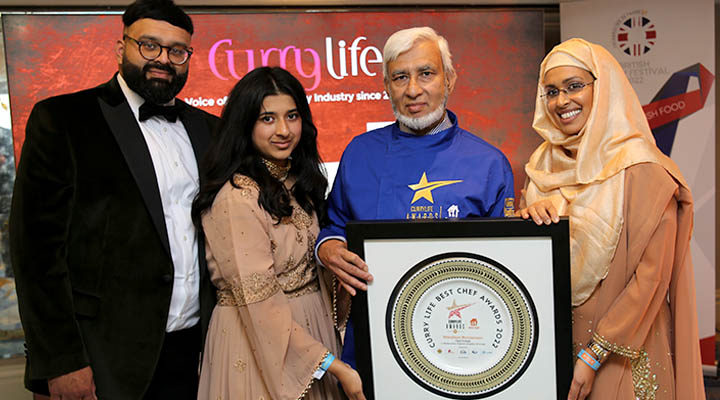 I am proud that I have had the opportunity to serve this community for so many years, I have served food to 3 generations and it's a good feeling to know that they enjoy our food
Dave Miah,
Owner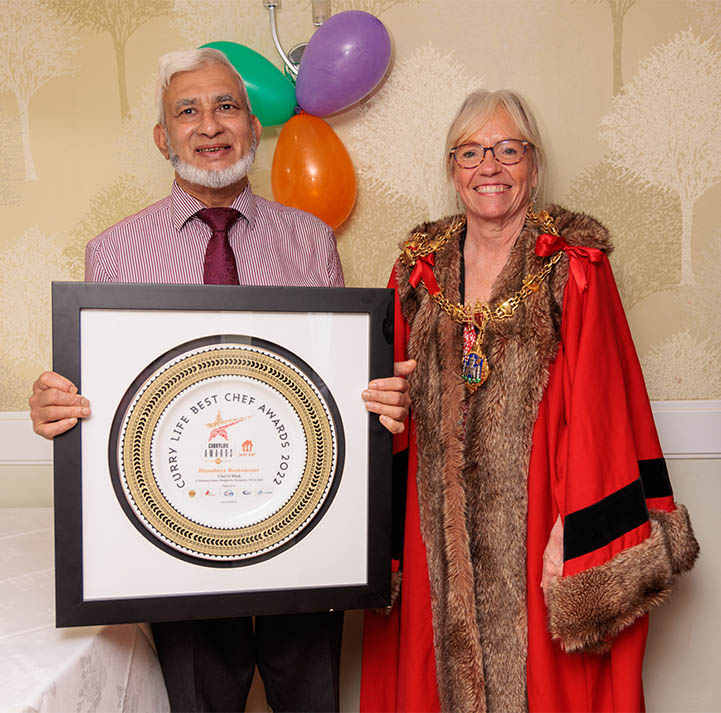 CURRY LIFE BEST CHEF AWARD 2022
Local Celebration
In a local celebration at Himalaya Tandoori, local customers from Bridgnorth along with the Mayor of Bridgnorth Karen Sawbridge, joined Dave Miah and his team to wish them well..
Call the Himalaya Indian Restaurant in Bridgnorth, Shropshire to book a table on 01746 766 522 or 01746 763464
WINNER - Customer Choice Awards
CURRY LIFE AWARDS 2021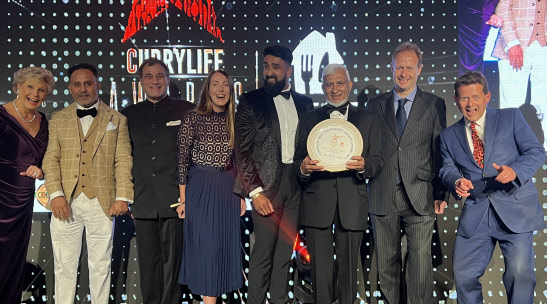 The ceremony at The Royal Lancaster Hotel on Sunday 10th October was a glittering event supported by Ministers, Top Chefs, and Celebrities.
The Customer Choice Award was exactly what it says on the tin, an award given in recognition of the nominations and comments from customers in the area.
One feedback that was quoted by the presenters on the evening -
"This was hands-down one of the best Indian meals I have ever had. Everything was so tasty and fresh, and all the staff were so attentive."
"Thank you to the customer that left this message and all the customers that left nominations and comments that resulted in our restaurant winning this award"
Dave Miah Owner of Himalaya Tandoori, Bridgnorth.
Dave Miah owner of the Himalaya Tandoori Bridgnorth at the awards on Sunday 10th October 2021. Pictured with Lord Bilimoria CEO of Cobra Beer, Angela Ripon CBE - Journalist, Newsreader, Writer & Presenter and Television Presenter Mike Bushell.
Local Celebration
Popular television presenter, Mike Bushell travelled to Shropshire to hand deliver Curry Life magazine's Customer Choice Award to a celebration in Bridgnorth.

Mike Bushell commented "one of the things that struck me is that this particular restaurant has such a close sense of being part of the community of this wonderful Shropshire town. In London I met with a whole family from nearby Albrighton that had travelled to be at the awards in order to support Himalaya Tandoori, the father explained to me that they had dined each and every week at the restaurant for 30 years".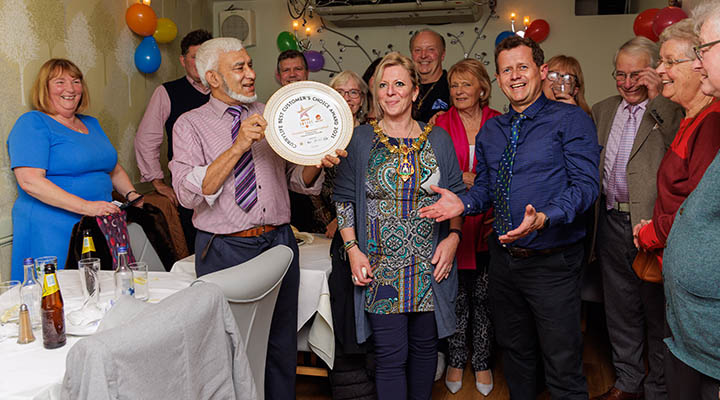 Book A Table
We look forward to seeing you - call 01746 766522 or 01746 763464

OPEN 7 DAYS
Sunday to Thursday 5pm - 10pm
Friday & Saturday 5pm - 11pm

Food Review: Heights of flavour at the Himalaya, Bridgnorth
By Andy Richardson. Published: Jan 23, 2022

Award-winning tandoori restaurant Himalaya is a fine blend of delicious food and polite service. Andy Richardson gives his verdict..read more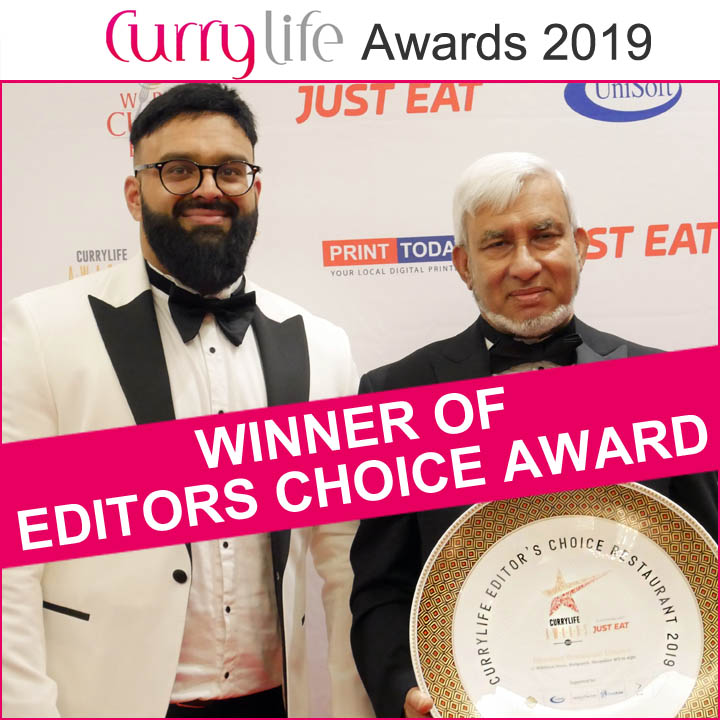 Himalaya Tandoori Winner of Editors Choice Award 2019
Thank you to everyone that voted for us... So pleased that last night we scooped the Editors Choice Award at the huge gala awards ceremony at the Hilton Park Lane in London and thank you to our loyal customers that travelled to London to support us.
This prestigious Curry Life Awards ceremony was hosted by Cathy Newman of Channel 4 News where Himalaya's owner, Dave Miah was referred to on stage as 'a legend'.
Dave Miah said that he believes that it's the homely atmosphere that people love and that he feels privileged to serve generations of loyal customers at Himalaya Tandoori.
For more details..click here
Mayor and Bridgnorth Councillor Ron Whittle:
"Dave Miah winning the Editors Choice Award in the Curry Life National Awards really sums up a lot about the man and his family, but also about Bridgnorth as a whole.
As Mayor I come in to contact with very many people and businesses. It is therefore no surprise to me that Bridgnorth was listed by the Guardian as one of the top six places to visit in the country!
Read more...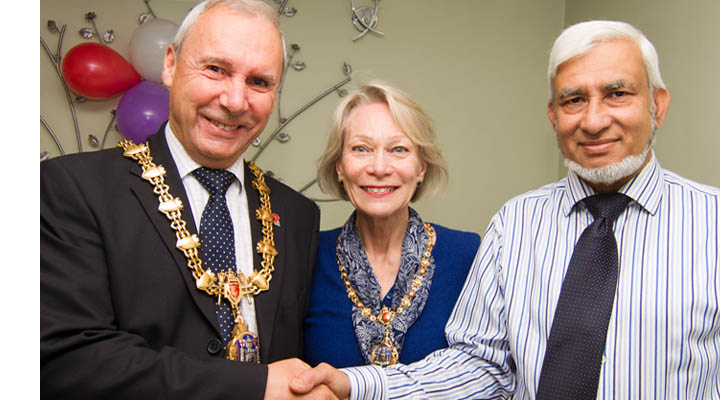 The best takeaway I've had for a long time, thank you DELICIOUS ! The Himalaya never disappoints us. The best in town
Mrs Watkins, March 2021
Sensational! This was hands-down one of the best Indian meals I have ever had. Everything was so tasty and fresh, and all the staff are so attentive.
Cazwaz. August 2020